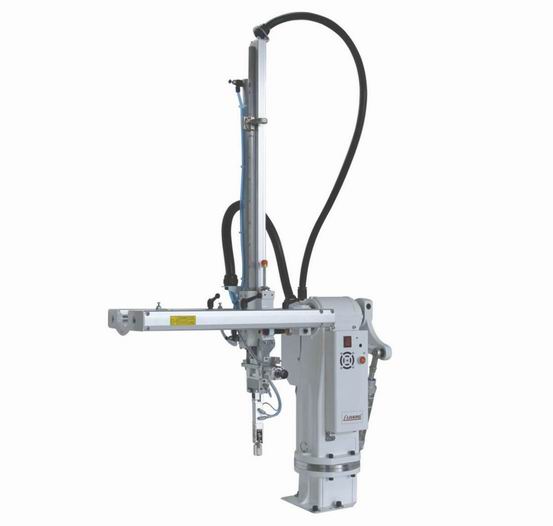 LA-650FJ
Product details
Horizontal rotation mechanism
The rotation mechanism is convenient to adjust when the placement direction is changed, only by adjusting the screw. With the rotation mechanism, the fixture can rotate 90° and places the finished product.
Mold change adjusting mechanism
The fixed handle needs to be loosened during mold change. The mechanism can rotate 90° to improve the mold change efficiency.
Fixture loop
The single function type can only clamp a water gap, and does not have an absorption function.
Arm structure
1. The light-weight and high-rigidity aluminum alloy structure beam is matched with a linear bearing and a high-rigidity bearing steel guide rail.
2. Light structure, good wear resistance, no deformation, small vibration, long service life
3. All-mechanical aluminum alloy structure
Main Specification

Model
(T)
I.M.M.range
(mm)
Vertical stroke
(mm)
Crosswise stroke
Type
(sec)
Min take time
(KG)
Max load
(sec)
Dry cycle time
(nl/cycle)
Air consumption
(KG)
Net weight
(MPa)
Air power
(kgf/c㎡)
Working air pressure
Power
LA-650FJ(X)
50-180
650
120
Single-stage
1.7
3
7
5.2
35
0.6-0.8
5﹣7
AC220V(±10%)
50/60HZ
| | | | | | | | | | | | |
| --- | --- | --- | --- | --- | --- | --- | --- | --- | --- | --- | --- |
| Model | A | B | C | D | E | F | G | H | J | K | L |
| LA-650FJ(X) | 1450 | 1380 | 790 | 650 | 400 | 80 | 190 | 175 | 120 | 413 | 550 |