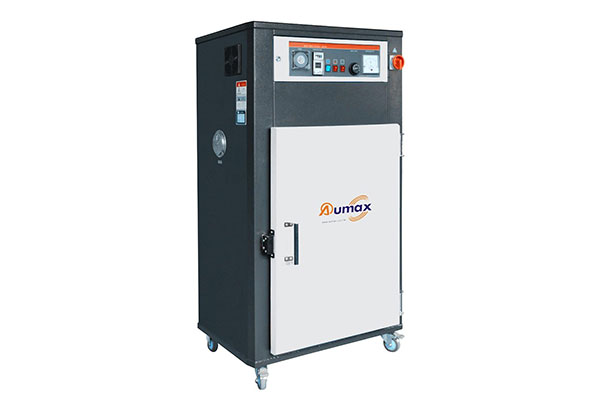 Products Name: Cabinet Dryer (Model: AMD-9P AMD-20P)
The AMD-P series of Chamber dryers are used to dry different materials simultaneously in small quantity. Before operation, materials to be dried are placed on the moveable material trays which are made of stainless steel. When the machine working, fresh air will flow through the heaters and be heated up to required temperature, then flow through a manifold with evenly scattered holes. Moist air is sent out through air exhaust port. It is designed to achieve a stable drying effect.
Features & Specifications:
> P.I.D. temperature controller to achieve an accurate and even drying effect.
> Hermetically-sealed adiabatic door can keep temperature constant inside and reduce energy consumption.
> Stainless steel tray and liner bring no contamination to material.
> Optimal design for easy maintenance and service
> Adjustable air valve at air inlet and outlet so as to adjust wind strength.
> Overload protection on motor.
> 24-hour timer, easy to operate.
> Equipped with separate temperature controller and alarm for overheat.
Note:
The machine voltage specification is 3Ø,220V/380V, 50/60Hz. The voltage can be changed as you require.
Specifications:
Model

AMD-9P

AMD-20P

Heater Power

kw

4.5

9

Blower Power

kw

0.37

1.5

Temperature Max.

°C

250

250

Tray Qty

pcs

9

20

Loading Capacity

Kg

100

200

mm

880x580x500

1000x970x800

External Size(HxWxD)

mm

1500x780x650

1750x1210x950

Weight

kg

180

380
Please excuse for not note if some specifications of products are changed.