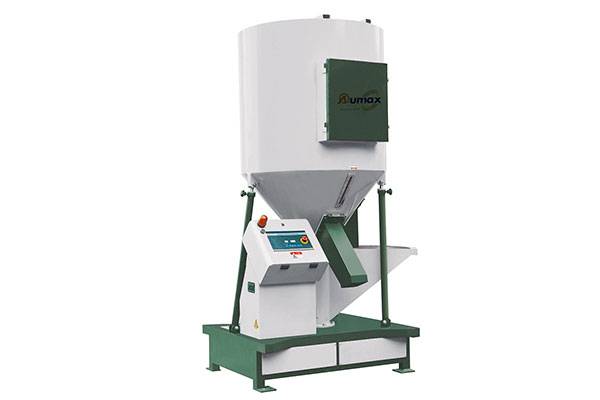 Products Name: High Capacity Plastic Mixer
Model: AMX-500KG AMX-600KG AMX-1000KG
AMX series Spiral Mixer are suitable for powder, granule, solid plastic material and color masterbatch mixing. This series is a kind of large plastic color mixer. It is better than the traditional plastic color mixer in some defects. And also, it is characterized of large mixing capacity, low energy consumption and high efficiency. It is widely used for plastic extrusion, injection processing. To achieve the aim of mixing material, screw blades are used to generate vortex. Materials are sucked towards mixing screws at the center of hopper bottom by vortex, and then materials whirl upward to the top and fall down so that the evenly mixing can be fulfilled in a short period.
Features & Specifications:
> Spiral leaf need to be welded before processing in order to shaft concentricity and run smoothly.
> Materials in the tank can be round stirred like swirl to decrease mixing time.
> The surface of machine made of stainless steel where will be contact the equipment and raw material in order to clean easily, and avoid rustiness.
> Low power, large mixing capacity, sealed mixing ,mixed evenly in short time, no leakage.
> Overload protection device for motor and chain protection device for power source to double protect the safety of motor and workers.
> Equipped with oil refueling device and dust-proof plate under the frame in order to durable bearing. (Apply to AMX-500/100KG).
> Auto-stop device, the setting range for auto-stop is up to you, easy and durable.
> Equip with hand-operated cut-off plate for discharge port, convenient for discharging.
> Height adjusting expansion support frame, universal caster and brake, easy for adjusting and moving .(Apply to AMX-80/160/260L).
> Nice appearance, easy-dismounted design, convenient for maintenance.
Note:
The machine voltage specification is 3Ø,380V,50HZ.
The voltage can be changed as you require.
Specifications:

Model

AMX-500

AMX-600KG

AMX-1000KG

Power

Kw

0.75

2.2

4

Mixing capacity

Kg/ min

500/5

600/10

1000/10

Weight

Kg

360

400

550

L

mm

1500

1600

1650

W

mm

880

1200

1400

H

mm

1485

2530

3000
Please excuse for not note if some specifications of products are changed.